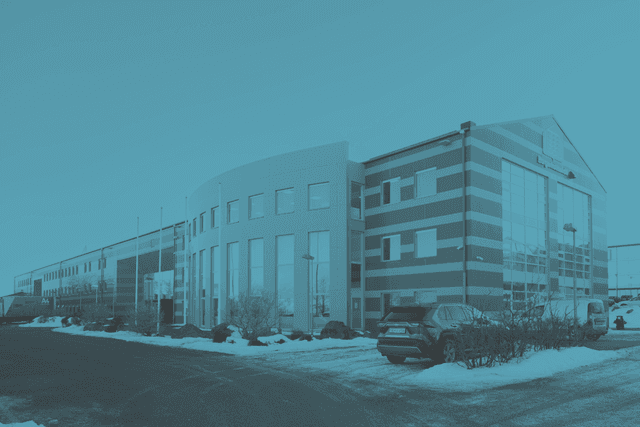 Basic information - English
Borgarholtsskóli is a comprehensive secondary school located on Mosavegur Road, Grafarvogur District, Reykjavík.
History of the school
The construction of Borgarholtsskóli began in 1995 and was completed in 1999. The building is made up of two wings for vocational training, a three-storey wing for academic programmes and a three-storey wing for administration, the library and canteen. The school began its operations in the autumn of 1996 when the first three phases of the building were ready for use. The fourth and last phase was completed at year-end 1999.
Borgarholtsskóli was opened on Monday 2 September 1996. There were then almost 400 students, and the number of teachers and other staff was over 40. The school has ever since been characterised by steady growth and development and has been at the forefront of innovation in various fields.
Today, the school has over one thousand students, staff of more than one hundred and a wide variety of courses on offer.
School policy
Borgarholtsskóli has always had a policy of promoting its students' literary, vocational and civil education. The school motto is: discipline, respect, expectations.
The school's basic values are equality, creation, self-discipline, progression and friendship; activities are progressive and creative and based on equality and friendship while demanding self-discipline.
Courses of study
Borgarholtsskóli offers a diverse variety of courses, aiming to fulfil the need of all students for a suitable course of study.
A performance sport scheme. The school has had a performance sport scheme since the autumn of 2008.  Under the scheme, students can pursue any of the school's academic programme parallel to other studies in collaboration with the head of the scheme. The performance sport scheme is offered in the field of handball, ice hockey, soccer and basketball, in addition to individual sports such as golf and swimming. The scheme is intended for students who wish to practice their sport at high performance level while pursuing an academic programme.
Automotive industrial arts. The field includes automobile body repair, auto mechanics and automobile painting and finishing. This is a practical vocational training programme preparing students for the journeyman's examination in a certified industry.
Preparatory programmes for university entrance. Courses are offered in the fields of Social Science and Humanities, Natural Science, and Business and Economics. In addition, those who have completed a vocational study programme can add the courses they need to prepare for university entrance.
Social services programmes. The programme provides students the qualification to work in the field of pedagogy, social services and care. Four disciplines are offered: preschool assistant, social issues and leisure time, social assistant and primary school assistant. It is possible to either graduate on completion of the vocational programme or add courses needed for university entrance.
The foundation programme is designed for students who do not fulfil the criteria for entrance into the school's other programmes.
Arts programme for university entrance. Students choose a major in the field of graphic design, film and television, or performing arts.
Industrial metal works. Subjects taught are flashing work, turning and milling, steel working, plumbing and mechanical repair. The programme prepares students for a journeyman's examination in a certified industry.
The special education programme is for students who have received significant special education services in primary school, or been enrolled in a special division or special school.
Distributed learning has been part of the school for 10 years. Distributed learning can take place parallel to work. The course is based on projects carried out through the internet, local sessions and online discussions. There are 3-4 local sessions each term, held on Fridays and Saturdays. Distributed learning is available to those who study in the field of social activity and pedagogy as well as metal and mechanical technology.
International cooperations
Borgarholtsskóli is active in international cooperations. Teachers and students participate in numerous projects each year through Erasmus+ and Nordplus. In 2020 the school received an important accreditation from Erasmus+. The accreditation confirms that the school has set up an Erasmus Plan to implement high quality mobility activities as part of a wider effort to develop their organization.
Borgarholtsskóli participates in short and long term mobilities for students and staff training and job shadowing opportunities for teachers.
Our international coordinator is Guðbjörg Hilmarsdóttir and her email is int.cooperation@borgo.is.
Students' social life
The school's student association encompasses numerous committees pertaining to various events, e.g. the freshmen trip, 80s ball and country ball. Improvisation night, guitarhero night, the song contest and more events are held in The Barn in Gufunesbær Farm. The drama club is highly active, staging a play each year. The two theme days in Borgarholdsskóli are called Shoe Galoshes Days. During those two days the traditional time table is set aside and students sign up for various courses. Other activities during theme days include participation in a countrywide exercise initiative called Lífshlaupið as well as paintball.
The school takes part in various competitions held among secondary schools in Iceland, such as the speech contest (Morfís), the song contest (Söngvakeppni framhaldsskólanna), and the questions and answers contest (Gettu betur). The school has done well in those competitions, winning the song contest once, and reaching the finals in the questions and answers contest several times as well as winning it once.
Address:
Borgarholtsskóli, on Mosavegur, 112 Reykjavík, ICELAND
ID number: 700196-2169
Tel: (354) 535 1700.
E-mail: borgo@borgo.is
Homepage: www.borgo.is
Principal: Ársæll Guðmundsson